When I was little I wanted to be an Archaeologist.. later a Marine Biologist. I also wished for world peace at Christmas. As I grew older and explored other career possibilities, I decided that it was a creative arty life I wanted to live while still helping others and the environment.
I am just entering a time in my life where I can put some real focus on the causes that matter to me. I would hope that my hard work would pay off by my friends, family and followers on various social networks, spreading my message and supporting the causes themselves.
However, this post is not about a cause I have fronted - rather its a shout-out for a very hardworking mistress of the DIY - miss heidiminx founder of Built on Respect.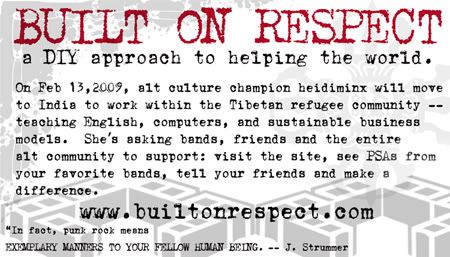 Mantra: "Treating people with respect, and sewing the seeds of fairness creates solidarity"
Myspace recently created the
Impact Awards
for those wonderful people out there that commit themselves to positive social change. Built on Respect is one of three finalists.
Please show your support by visiting the Impact Awards site and voting for Built on Respect. At the same time you can learn about heidiminx's hard work teaching English and computers at a Tibetan refugee community.
Thanks for your support!