As I have written in another post, my son Paul has an orthotic helmet he needs to wear for at least 5 months. As of right now it is a plain dark blue helmet w/ one lighter blue snake skin print strap on the side.
As a family we are very into extreme sports. We constantly are on the lookout for new daredevil motocross footage dvd's and have the
Fuel network
on (A LOT)!! We go to the desert plenty and hopefully sometime soon I will be able to start work on transitioning from quad riding to dirt bike riding. I haven't really done very much riding at all but the little I did was enough to get me hooked.
Paul's helmet is one of those things that as a parent you want to keep forever and ever. I figure it will be one of many helmets in his lifetime so why not start it out right and cover it with badass stickers. The problem is I have a few, but not many. I really dont even know where to begin looking.
So my thought was, why not throw it out to the people of twitter and @tonyhawk. If you have any stickers that could make my son's helmet that much more wicked looking I would be SO grateful.
If there is a chance that you or someone you know may have something to contribute let me know at @bullygrrl_art.
Of course I will consider special placement on the helmet and will take a load of pictures as the project progresses.
Here is my son in his plain helmet.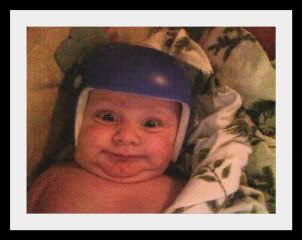 Thanks for reading and pass this post on to anyone who can help!!