**This was a pretty mellow yet productive week. Many things to share and update on. I have yet to organize my time better so this is an update of the entire week. In the future I will be updating on a regular basis.**
The week started out on an awesome note. Tuesday was the follow up appt. for Paul's cranial remolding orthosis (helmet). The Dr. took another scan of his head to see what change had been made if any at all. The changes were positive in that the flat spot is not so anymore but his head is growing wide rather then long. He def. needs a helmet.
Thanks to Medi-cal, we were able to finalize the deal. Measurements and pics were taken and we go back next Thursday to pick it up.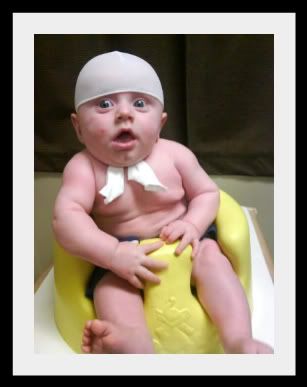 This is the head sock they put on before they scan it. He is such a good sport. No fussyness or crying he was happy the whole time. At the end I got to pick out the color/design of the helmet. I had 20 or so designs to choose from but in the end I went with plain dark blue and blue snake skin print straps. Joe and I plan on decorating the helmet w/ motocross stickers. Its going to be wonderful!